Global student recruitment for Chinese counsellors
The China Education Agent Course (CEAC) is a comprehensive professional training programme covering the fundamentals of global student recruitment, delivered fully in Chinese language. It is designed to equip China-based education counsellors with an understanding of the global international education landscape, and build the skills to help students realise their goal of studying internationally, outside of China. This course is delivered in partnership with BOSSA – a Chinese organisation distinguished for driving professional practices in Chinese student recruitment. 
We are now accepting new applicants. If you would like to take the course please email: academy@icef.com.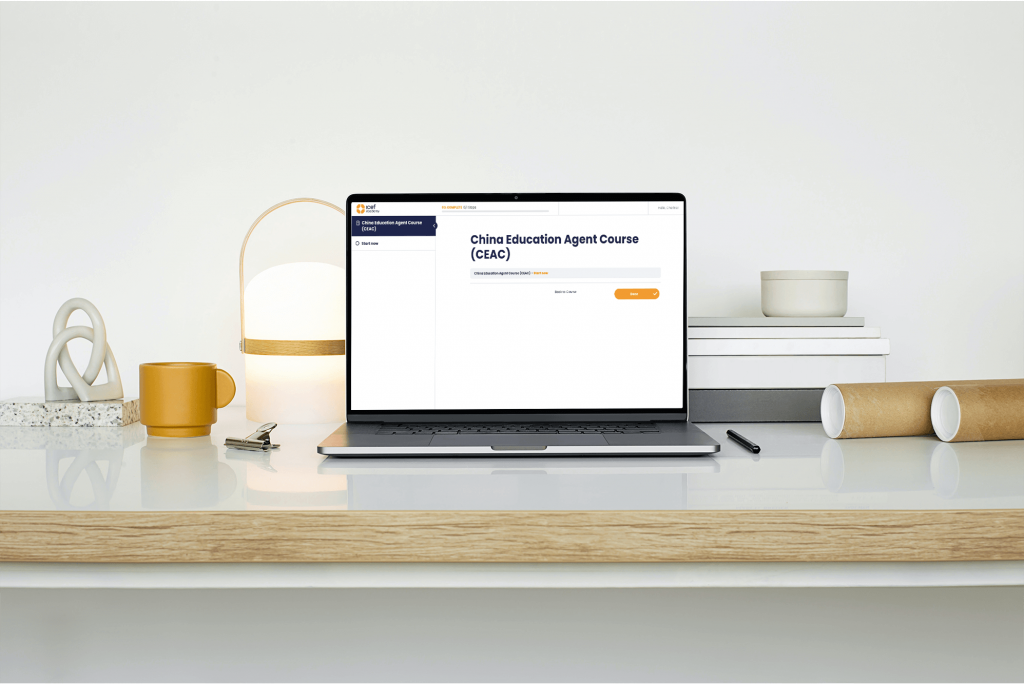 The CEAC focuses on 3 main areas:
China-based education agents who would like to further their knowledge of the global international education landscape should take this course. Graduates emerge with a deeper understanding of the global industry, and are better equipped to advise students on how to make to move to study overseas.
An official qualification is available to all candidates who complete the course and pass the CEAC exam. Successful graduates will receive a qualification badge with a unique ID number and a certificate confirming them as a China ICEF Trained Agent Counsellor (CITAC), with the recognition of being an ICEF-qualified consultant for the international education industry. Graduates are also entered in the Qualified Education Agents (QEA) network, containing the names and company contact details of more than 16,000 qualified agents worldwide. ICEF-trained counsellors are recognised and sought after by institutions globally, while BOSSA are distinguished for driving professional practices in outbound Chinese student recruitment.
Examination
Entry requirements
Course fees
Examination
To schedule a testing option, please email ceac@bossacn.org to reserve your testing slot. Once you have registered for the course and test, you have one year in which to sit the formal exam.
The final test comprises 50 online multiple-choice questions to be answered in 90 minutes. During the test, candidates will have access to online and offline resources. They will not be tested on individual country information/regulations, only on all the other sections of the CEAC. Candidates may use personal notes or information presented online from the course content during the test, but they will not be allowed to phone anyone or ask other people for assistance.
Successful participants will receive the China ICEF Trained Agent Counsellor (CITAC) certificate.
Entry requirements
Course fees
The ICEF US Agent Training Course gives a refreshing current view of the US education system and overseas study market trends for professional counsellors. It also gave us accurate, up-to-date information about how best to help students select a learning institution appropriate for their academic studies, career, and personal goals.