Unlock Canadian education
International student recruitment to Canada has increased steadily in recent years, and continues to be a first-choice for many students opting to study abroad. The Canada Course for Education Agents (CCEA) unlocks this popular destination to education counsellors, and supports your development as an expert in the Canadian education market.
Originally produced by ICEF, Languages Canada and the Canadian Department of Foreign Affairs and International Trade (DFAIT), the course is now jointly owned by ICEF, Languages Canada, and the Canadian Association of Public Schools International (CAPS-i).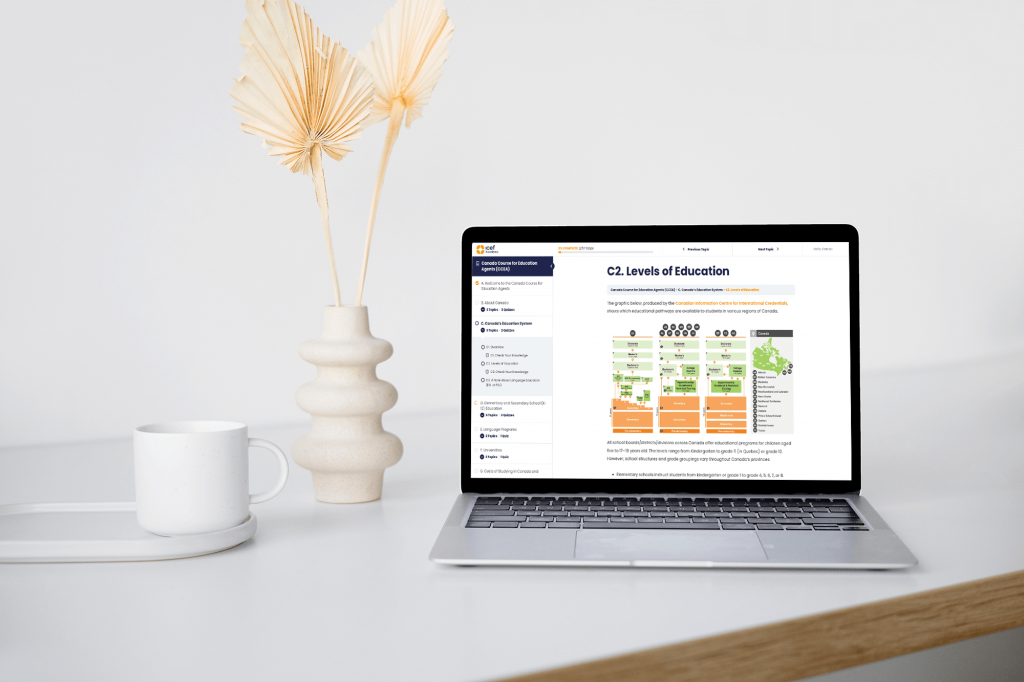 The CCEA syllabus includes:
Learn the education landscape of one the world's most popular study destinations, with exclusive content offered in partnership with two of Canada's key education associations. This comprehensive course equips you with the tools and knowledge to direct students to their ideal study experience in Canada.
An official qualification is available to all candidates who complete the course and pass the CCEA exam. Successful graduates will receive a qualification badge with a unique ID number and a certificate confirming them as a Canada Course Graduate (CCG), with the recognition of being an ICEF-qualified Canada consultant for the international education industry. Graduates are also entered in the Qualified Education Agents (QEA) network, containing the names and company contact details of more than 16,000 qualified agents worldwide. ICEF-trained agents are sought after by education institutions worldwide.
Examination
Entry requirements
Course fees
Examination
The CCEA exam can be taken online or in person at some ICEF events.
You will be notified of your results within 5 working days if taking the exam online. If taken in person results are available immediately upon completion.
Successful participants will receive the Canada Course Graduate (CCG) certificate.
Entry requirements
Course fees
As a native of Canada, I took advantage of the Canada Course for Education Agents to gain a deeper understanding of the differences in the Canadian school system. The CCEA teaches us about Canada including the geography and different cultures, and helps agents to thoroughly advise students and their parents. Even with my many years of experience with Canadian schools, the CCEA was a valuable tool for my professional development.