Access the global education landscape
International student recruitment is a complex business, but for education counsellors who understand their craft the opportunities are vast – for counsellor and student alike. This course delves deep into the foundations of the industry, and helps both new and more established agents hone their skills and develop their knowledge in this constantly evolving sector.
The ICEF Agent Training Course (IATC) is a comprehensive professional training programme for agency-based education counsellors. Developed in consultation with leading experts in the sector, the IATC equips you with an in-depth view of the international education landscape, the skills to work successfully with educators and institutions, and the knowledge to guide students through their study abroad experience.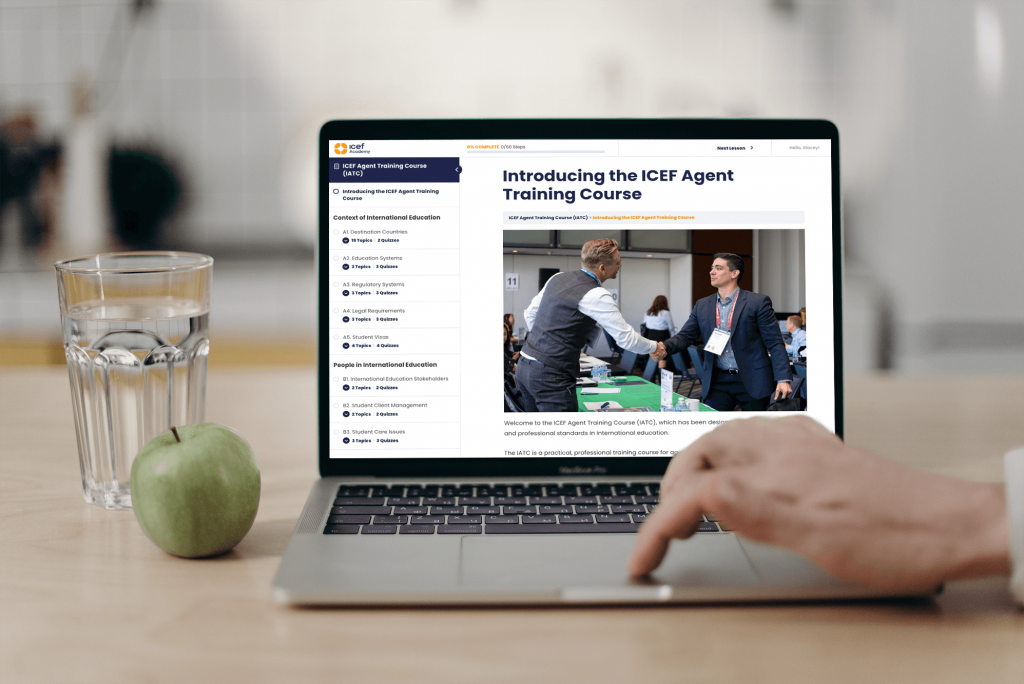 The IATC focuses on 3 key areas:
In taking this course you will gain an essential understanding of the fundamentals of the international student recruitment. Created in collaboration with leading industry experts to ensure content is comprehensive and current, it is ideal for new education counsellors, and anybody in the industry wishing to update their knowledge.
An official qualification is available to all candidates who complete the course and pass the IATC exam. Successful graduates will receive a qualification badge with a unique ID number and a certificate confirming them as a ICEF Trained Agent Counsellor (ITAC), with the recognition of being an ICEF-qualified consultant for the international education industry. Graduates are also entered in the Qualified Education Agents (QEA) network, containing the names and company contact details of more than 16,000 qualified agents worldwide. ICEF-trained agents are sought after by education institutions worldwide.
Examination
Entry requirements
Course fees
Examination
The IATC exam can be taken online or in person at some ICEF events.
You will be notified of your results within 5 working days if taking the exam online. If taken in person results are available immediately upon completion.
Successful participants will receive the ICEF Trained Agent Counsellor (ITAC) certificate.
Entry requirements
Course fees
Without a doubt, ICEF's role in our growth as agents has been pivotal. ICEF events have been a fantastic opportunity to establish and consolidate relationships with our educational service providers. The certifications and training programs offered by ICEF have been critically important in the development of our staff, and in strengthening our reputation of quality amongst our peers and customers.